Alborada Spanish Dance Theatre is very proud to announce its first CD recording:
Musical Tapas (premier September 2006). Performed by the Alborada artists and additional guest artists, this CD represents a lifelong dream to preserve the Alborada repertoire, not only for the enjoyment of its aficionados but also for the general public that is not as familiar with Spain's rich cultural variety. In keeping with our mission to preserve, cultivate and perform the dances and music from Spain, this CD includes Flamenco, classical, and regional music and also poetry excerpts. To order a CD, please send a check in the amount of $21.00 ($15.00 plus $6.00 shipping and handling) made payable to Alborada Spanish Dance Theatre and mail to:
Alborada Spanish Dance Theatre,
ATTN: Eva Lucena, Alborada Spanish Dance Theatre,
The Township of Woodbridge, 101 Main Street, Woodbridge, NJ 07095.
For orders of multiple CDs, please add $17 ($15 plus $2.00 shipping) for each additional CD. We hope you will love listening to this CD as much as we loved performing it!
Black Tote Bag

$3.00 each

White T-Shirts

Sizes: M - L - XL - $12.00 each
T-SHIRTS and TOTE BAGS - Individual T-Shirts and Tote Bags, Shipping and Handling add $2.00.

We also have a wide variety of FANS ranging from $5.00 to $15.00 as above - our full range will be displayed on this page shortly, in the meantime please address your enquiries to 1-732-255-4071

TO ORDER: Please send check or money order to: Alborada Spanish Dance Theatre,

Store Department, 101 Main Street, Woodbridge, NJ 07095

(Allow 5 to 10 business days for delivery)

Please phone 1-732-598-3979 for quote on multiple T-Shirts and/or Tote Bags
ALBORADA's FIRST CD!
"Musical Tapas" Volume 1 CD (as detailed above)
BEAUTIFUL FANS!
A wonderful assortment,
prices ranging through $5 to $15 each
(see details below)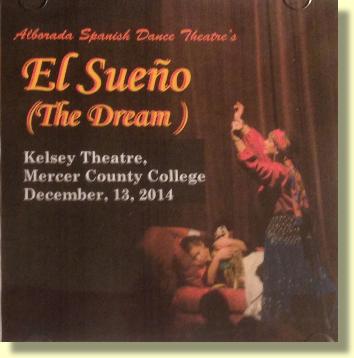 ALBORADA's FIRST DVD!
The complete video of El Sueno, 2014 performed at the Kelsey Theatre. Price $20
NEW! ALBORADA's SECOND CD!
"Musical Tapas" Volume 2 CD (as detailed above)